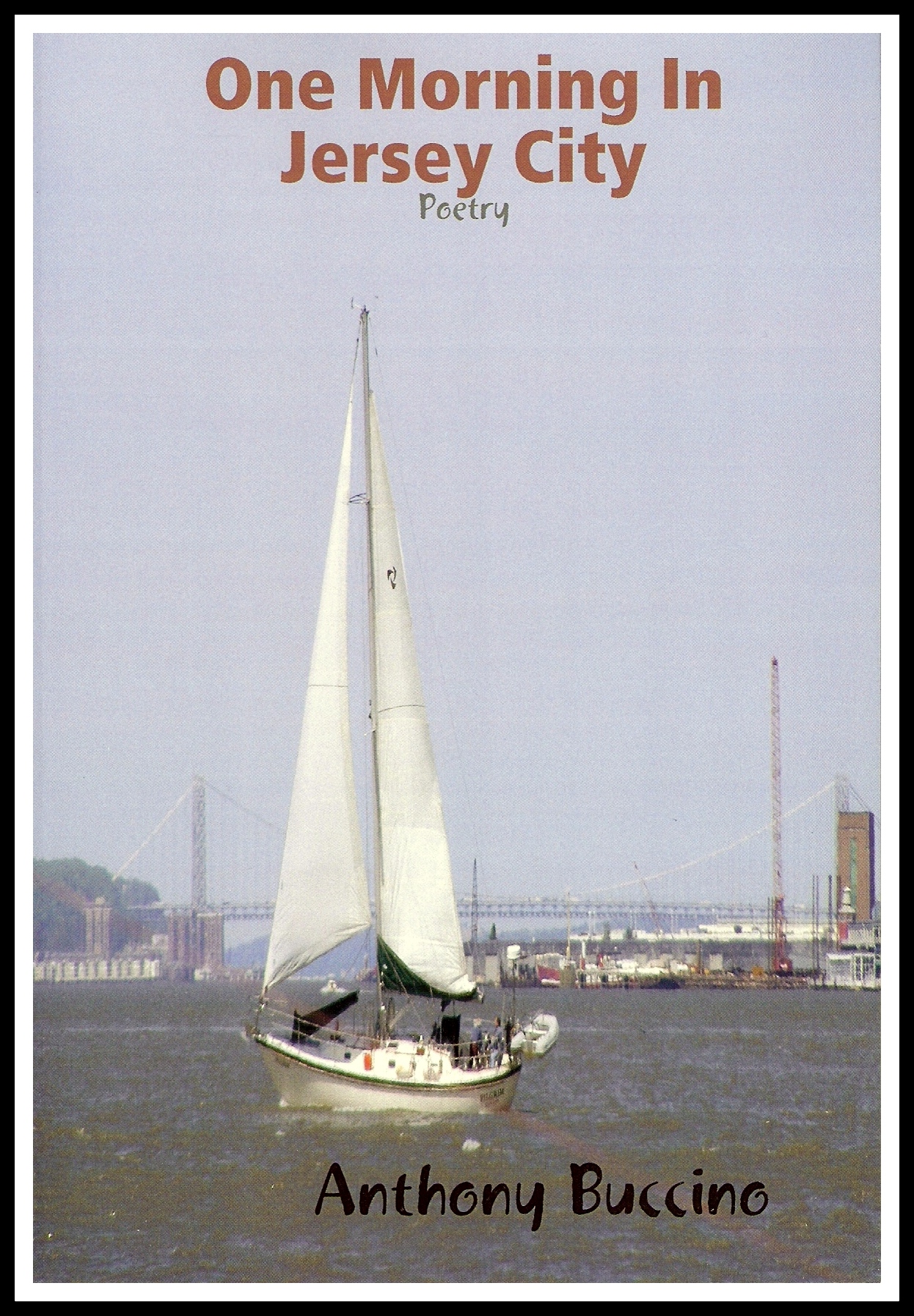 Verse written along the Hudson River in Jersey City, N.J.
You can hear a lot by looking around. Sometimes, standing along the Hudson River shoreline, you can dream of the freedom in the sailing beauty slipping through the waves, or question the signals proffered by a hungry seagull, or ponder why the pigeons follow you.
Or you could sit ever so still and listen to the clatter of heels on the tile as the cigarette mafia heads outside for fresh air, while you slip in among them and consider the steel and glass surroundings.
Town that gives poetic license
---
One Morning In Jersey City
Table of Contents
SAILBOAT
PIGEONS
WALKWAY
SEAGULLS
ICE BERGS
PILINGS
AT AMERICA'S GOLDEN DOOR
COLUMBUS
COOTIES
BEAMS
SUMMER ARRIVES
RUNNING PIGEONS
PRETZELS
THE PIER APARTMENTS
ALONG THE RAILING
HYATT PIER
SUNDIAL
WEST OF NEW YORK
THE AIR LIES
CRISP
MORSELS OF SURPRISE
CHOPPERS
THE BOOTCH
J. OWEN GRUNDY PARK
NY WATER TAXI
ATRIUM
CRAYONS
TOURISTS
TRAVELS
QUEUE
SOMETIMES ON THE TRAIN
LONDON TIME
AUSTRALIA
NOTHING PERSONAL
JOB ROCK
MOURNING COFFEE
PRIMARY COLORS
CAFÉ OLE
NO ACCIDENT
MIRROR
SURPRISE
ALOHA
I'M NOT GEPETTO
ALOHA II
POOR BISHOP
ALOHA III
THE DAY OF THE DREAM
CITY BEANS
NEW HERE
PEOPLE AT THE RAILING
QUANTUM LOOP
ANTHONY'S WORLD
Anthony Buccino
---
---
Anthony Buccino books on Amazon
---
---
---
Buccino's Work
Has Appeared
Paterson Literary Review
U.S. 1 Worksheets
Rattlesnake Review
Medusa's Kitchen
Voices In Italian Americana
Edison Literary Review
Journal of New Jersey Poets
CHEST
The Idiom
Fox Chase Review
Up & Under
Caduceus
South Mountain Poets Anthology
MEWS WS
LIPS PS
More Sweet Lemons
The Poem Factory
On The Quiet Side
PowWow Review

---
First you want a body of water
To look at out your window
Then you want
A sailboat to float by
On the shimmering sea
Then you want a body
Steering the sailboat towards you
It should be someone sexy, you say.
And the sailboat, slick and sleek
As it approaches your shore
Then you want no window between
You and the sea, a summer breeze to blow
Wisps of sea spray to keep bugs away.
Next you want more vacation time
To sail away on the sea, and that, my dear,
Is why you can see no sailboat, or foamy water
You see nothing beyond the walls of your cubicle
-Sailboat
New Jersey author Anthony Buccino's stories of the 1960s, transit coverage and other writings earned four Society of Professional Journalists Excellence in Journalism awards. The Pushcart Prize-nominated writer has been called ' "New Jersey's 'Garrison Keillor" or something to that effect.'
---
Copyright © 1995-2016 By Anthony Buccino.
All rights reserved. Permissions & other snail mail:
PO Box 110252 Nutley NJ 07110
---
Buccino Books
---
6 Pompton Avenue, Cedar Grove, N.J.
Certified sports chiropractor
---
Shop Amazon Most Wished For Items