Instead of a box of new golf clubs, Old St. Nick brought me a Yorick extended life hotel vacuum cleaner and a coupon for a free compact canister by the same manufacturer.
---
At the end of April, my Christmas present is holding up well. I have to fight off other members of the family so I can have my share of time with it, but each of us, except our Labrador retriever Stormi who will have nothing to do with it, has grown accustomed to sharing my Christmas present.
From the time we carpeted our first apartment 20 years ago, we had our first Hoover vacuum, a canister type that fit into our four-foot high closet/crawl space. That antique is still around, I use it to vacuum dog hair and dust bunnies from nooks and crevices in the creepy-crawly spaces in the cellar.
A few years later we got a Hoover upright. The biggest difference with the old canister and the upright is that each one takes a different bag.
When Momís old Electrolux bag was full, she shook it on some old newspapers and folded the corners and tossed the mound of dust neatly wrapped into the trash.
She then put the bag back into the Electrolux and was ready to resume vacuuming.
Nowadays, each of our vacuum cleaners has a disposable bag. Each type of vacuum cleaner has its own size disposable bag, not included and sold separately. Sizes vary by type and each disposable bag is assigned a random letter that when you need them, the stores are all out of your size.
After a number of years, the Hoover upright didnít clean like it used to, so we tried out the new Regina Housekeeper 5000. It was terrific, but it cut such a small swath that it seemed to take forever to vacuum every rug in the house. Whose idea was it to carpet every single room, anyway? No wonder we only got about 10 years out of the old Hoover.
In the new wave of vacuum development, or maybe it was just from the old manufacturer to the new, the vacuum cleaner got lighter to carry even though it now carried all its accessories in snap-in-place spots like a utility pack.
Our latest Regina had a plastic steering handle. This helped make it lighter for pregnant women to carry up and down the stairs. But when us He-Men picked it up by the plastic handle and set out on our mission to round up and collar all the dust bunnies, the darn cheap plastic handle broke off.
This of course led to the episode with the Super Glue and nail polish remover that cannot be reprinted in a family newspaper.
The next logical step was to spring for a new Regina Housekeeper 7000. This came with its own set of attachments, and of course, befitting a 7000, a larger and more powerful swath.
The easiest way to keep the attachments straight was that the 5000 accessories were gray and the 7000 accessories were blue.
The larger Regina Housekeeper 7000 used different size bags than the Housekeeper 5000, wouldnít you know?
So, between the two old Hooversí bags, the old Regina Housekeeper 5000 bags and the new Regina Housekeeper 7000 bags, I ended up adding a shelf in the pantry for storage. Perhaps it would have been easier to simply throw out the old vacuum cleaners and the appropriate bags whenever we bought a new vacuum cleaner to replace the old.
But our old cellar is like a Miami Beach for vacuum cleaners. They sit there, behind the furnace, waiting for one more call to clean the carpets.
When the drive belt on the Regina Housekeeper 7000 shredded, it left a black skid mark on the eggshell wall-to-wall. Simply turning a few screws on the bottom allowed a giant spring to pop out like a genie out of a bottle.
So, with a hand full of parts and a visit to the repair shop, I spent nearly more than itís worth to fix it. After he fixed it and the service sale ca-chinged in the register, the repairman said, ďItís time to replace this cheap hunk of plastic.Ē
Properly and professionally advised, I added a new vacuum cleaner to my Wish List.
Instead of a box of new golf clubs, Old St. Nick brought me a Yorick extended life hotel vacuum cleaner and a coupon for a free compact canister by the same manufacturer.
Just like my pal Lionel on the radio said, the darn thing is light to carry and it really sucks. We were amazed. It looked like we had new rugs after the first time through the carpeting with the new Yorick nee-Oreck extended life hotel vacuum.
Along with a small check for shipping and handling, I sent away the coupon for the free super-powerful compact canister. It came soon enough, even though I waited and mailed it in beyond the required date of the coupon expiration.
Hey, how was I to know Santa bought it back in November? The Yorick nee-Oreck people honored the coupon and cashed my shipping and handling check.
Alas, Yorick nee-Oreck, this little sucker can pick up a 16-pound bowling ball. And if I had a bowling ball, and the bowling ball suck-up attachment, Iíd be delighted to prove it right.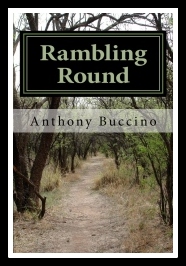 The real problem to proving the bowling ball theory is not finding the attachment box or a bowling ball. The dilemma is that I have to wait my turn to get at the Yorick nee-Oreck.
Thatís okay, because they say the hotel quality vacuum has a 10-year breakage warranty and a three-year engine warranty. Although, as they say, your mileage may vary.
Meanwhile, as I wait my turn at using my Christmas present, perhaps Iíll take Stormi for a tour. Perhaps weíll find a neighbor interested in loaning us that bowling ball for our little experiment.
First published as 'Alas, this Yorick can suck up a bowling ball' in Worrall Community Newspapers on May 1, 1997
From the book Rambling Round, Inside and Outside at the Same Time
---
Read:
Roaring Peace aka Mow, Mow, Mow Your Lawn, Forever and a Day