Yountakah Country - A Poetic View of Nutley Old and New
By Anthony Buccino
---
Buccino takes some history, some folk lore and some current news and mixes them together in this humorous and thoughtful collection about the little town of Nutley, N.J., on the Yountakah River.
Buccino's take on the township mixes history, tales and observations in a rich mix of what may or may not be the true history of Annie Oakley, the ITT tower, Lenni Lenape or Valium, not to mention the Velodrome and the headless rider or the parlous waters that rage through Yountakah River on rainy days.
Knowing some of Nutley's history, readers will appreciate the twists and turns and maybe even learn something about the quiet little "Norman Rockwell town" in northern New Jersey.
For instance, did you know that the quiet little river that runs through Nutley was called Yountakah by Lenni Lenape, and so was their annual autumn feast - a predecessor to the Pilgrims' Thanksgiving? The name was also used by a large country club and golf course that bordered the Passaic River in town.
Contents
INDIAN TRADERS
YOUNTAKAH COUNTRY
BRIGHT GREEN PARK
STOLEN POST OFFICE
WHEN GRANT CAME TO TOWN
CHURCH BELLS DUEL
ANNIE'S NOT MISSING CLOSETS
BELL LAP TAVERN
VELODROME
PILLARS OF NUTLEY
HOT LUNCH
RUMORS OF WAR
BOOTH PARK CAROMS
DREWES
YOUNTAKAH RITE
POOLS
VALIUM BREEZE
SNOW DAY
ITT TOWER
PLENGE'S FARM
BROOKDALE SODA
NUTLEY DINER
OVERLOOK
PARLOUS WATER
THE 74 RUNS THROUGH IT
AFTER A FIRE
DEADLY FRIENDS
NUTLEY SHUFFLE
PIZZA WARS OF NUTLEY
LOW BRIDGE
CALIFORNIA STEVE
UN GARDENS
STARTING MISHAP
FREEDOM RING
MEMORIAL GREENS
PEACETIME VIGILANCE
PIGEON MAN SECRETS
THOSE PEOPLE
STONE CUTTERS
OLD MAN UP THE BLOCK
SPECIAL DELIVERY
NUTLEY LITTLE THEATRE
A WONDERFUL TOWN
A LIVING EXAMPLE
NUTLEY HEIGHTS
ON MEACHAM HILL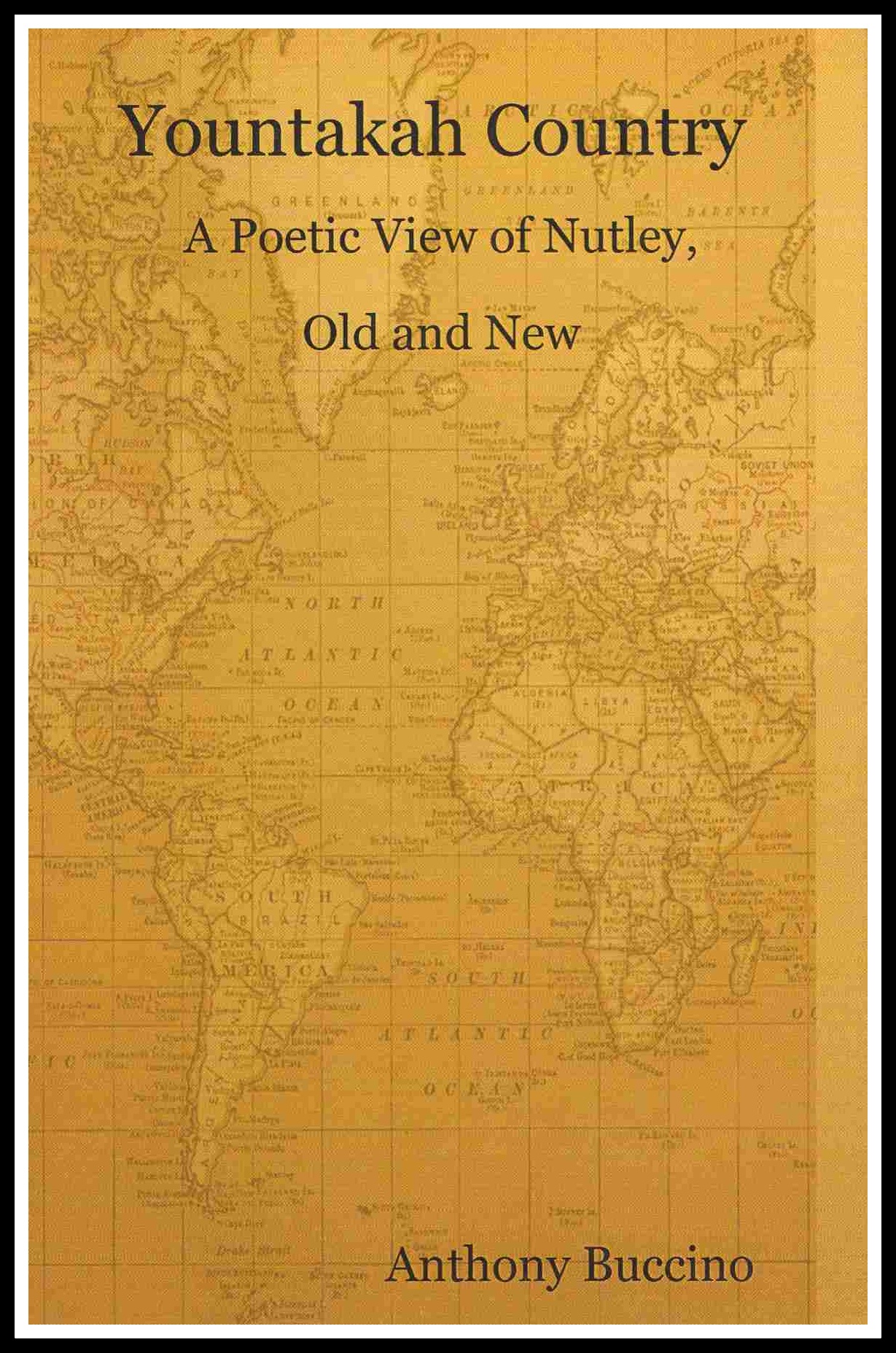 ---
YOUNTAKAH COUNTRY A Poetic View of Nutley, Old and New
Copyright © 2010 by Anthony Buccino
ISBN 978-0-9825677-46
Cherry Blossom Press, PO Box 110252, Nutley NJ 07110
Buccino's poetry collections are mostly out of print. Special orders - send email to author.
---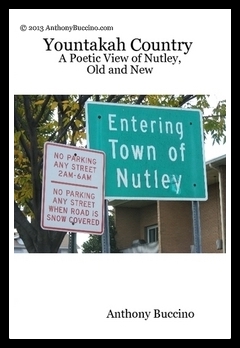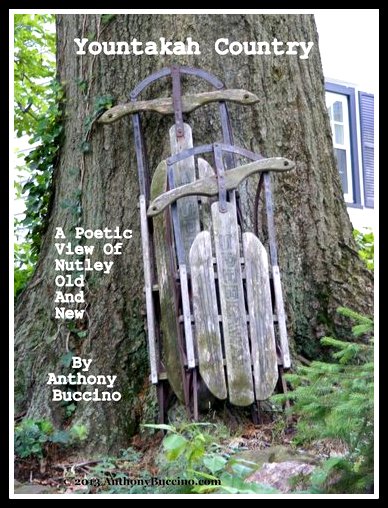 ---
First Edition Print Photo Notes

Cover, 6, 9, 50 – Nutley Street signs
Page 1, 56 – Matchbook collection, courtesy Ed Stecewicz
Page 5 – Nutley Yesterday-Today
Page 7– Park Oval
Page 8, 36, 51, 53 – Nutley Museum display
Page 10, 15 – Brookline Ave.
Page 11 – Nutley Post Office
Page 13 – Velodrome program
Page 14 – Bloomfield Avenue
Page 19 – Passaic Avenue
Page 20 – Alexander Avenue
Page 21 – Nichols Park
Page 22 – Spring Garden School
Page 24 – Street sign, Belleville
Page 25 – Brookdale Beverages
Page 26, 29, 34, 35 – Franklin Avenue
Page 27 – Ridge Road
Page 28 – Memorial Park
Page 32 – Coeyman Avenue
Page 33, 52 – Washington Avenue
Page 37 – Kingsland Park
Page 38 – American Legion Post 70
Page 39 – Gold Star Mothers scrapbook
Page 41 – Booth Drive
Page 42 – Town Hall
Page 43 – Private residence
Page 45 – Park Avenue
Page 48 – Garden State Parkway
Page 49 – Erie Place

Photos by author, except as noted.
---
Covers Vary
Anthony Buccino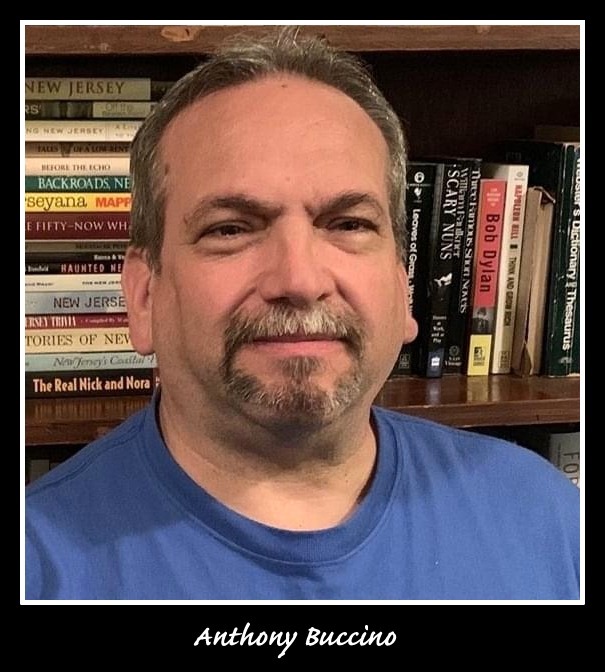 ---
Essays, photography, military history, more
---
Join Anthony's World Email List
---
New Jersey author Anthony Buccino's stories of the 1960s, transit coverage and other writings earned four Society of Professional Journalists Excellence in Journalism awards.
Permissions & other snail mail:
PO Box 110252 Nutley NJ 07110
---
---
Follow Anthony Buccino
Facebook
---
---