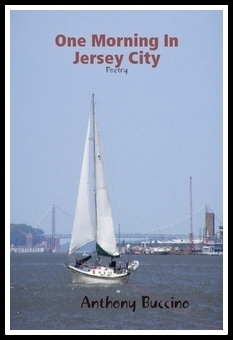 One Morning In Jersey City
---
First you want a body of water
To look at out your window
Then you want
A sailboat to float by
On the shimmering sea
Then you want a body
Steering the sailboat towards you
It should be someone sexy, you say.
And the sailboat, slick and sleek
As it approaches your shore
Then you want no window between
You and the sea, a summer breeze to blow
Wisps of sea spray to keep bugs away.
Next you want more vacation time
To sail away on the sea, and that, my dear,
Is why you can see no sailboat, or foamy water
You see nothing beyond the walls of your cubicle
-Sailboat
---
One Morning In Jersey City
Published by Cherry Blossom Press
---
Buccino's poetry collections are mostly out of print.
Special orders - send email to author.
---