Non-rhyming verse about being out of work, the strains that tag along and the sinking boat you feel you're riding in.
This collection deals with a difficult subject in a very real way. Its strength is its realness and that is also its greatest weakness. It's not for the faint of heart.
A must-have for anyone who deals in human resources, personnel, recruitment, job placement, or has been fired, laid-off and is out of work.
---
CANNED, Booted, bumped, down-sized, fired, forced out, hated, hired, jobless, laid off, let go, out of work, out-sourced, pink-slipped, terminated, sacked, unemployed – By Anthony Buccino
Buccino's poetry collections are mostly out of print.
Special orders - send email to author.
Canned on Amazon
---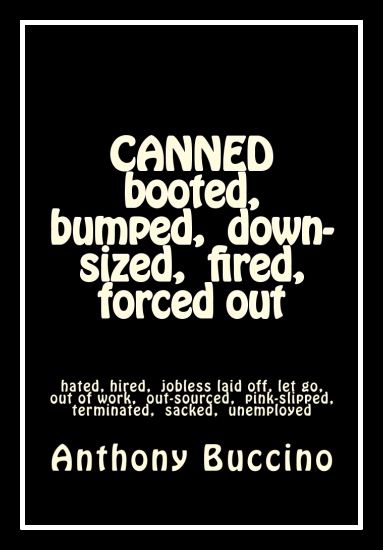 The poems in this book follow a rhythm all their own, charting a course through an unforgiving world. Throughout, the speaker seems to remain buoyant, hopeful in the midst of so many illusions shattering.
A poem like "Job Rock" is one of the best here, & most emblematic of the book's concerns. Through a kind of jangly movement, the speaker recounts how many people hope it could be, while flatly affirming that it isn't that way anymore. And despite all of our complaints about bosses & hours, we know he's right - that all we want is a place to belong.
Though the book is broken up into sections, the poems don't seem to benefit from this -- either because poems are placed in sections in a manner that can't quite be discerned or because the sections themselves aren't thematically divergent enough.
-- Judge, Writer's Digest 21st Annual Self-Published Book Awards
---
Table of contents
SIDE BY SIDE
NOON CLOUDS
FIRED
FORCED OUT
TEN MINUTES
THAT STUPID JOB
GOOD THINGS ABOUT BEING OUT OF WORK
A SUCKER AND A BUCK
STATISTIC
THERE'S THAT PICTURE
A WHOLE NEW WORLD
WANT ADS
INTERVIEW SUIT
WHAT KIND OF WORK YOU OUT OF
ELEVATOR PITCH
YOU GOOD AT SOMETHING
GREATEST WEAKNESS
YOU MUST LIKE FOOD
HONEST TO A FAULT
THE FIRING MONTH
MY DAUGHTER'S JUNIOR PROM
WHEN I GO POSTAL
AMEN FOR OLD PLASTIC
SAVING FOR THE PLUMBER
BETTER LUCK
HOMELESS AT CHRISTMAS
EGG
HIERARCHY OF SEAGULLS
FIRING
COLD SMOKERS
BIG UGLIES
NOTHING PERSONAL
HAPLESS COMMUTERS
SEAGULLS FOR LUNCH
EVEN PRISONERS GET LUNCH
JOB ROCK
LET US COMPARE
LUNCH BOX
SNOOPY HAT
FIXING THE ROOF
HANDS IN SOCKS
MIRROR
FREE LUNCH
HURLING
FEATHERING THE FORKLIFT
SHOESTORE WRITER
WAREHOUSE EYES
DEAR BOSS
YOU SHOULD HAVE TOLD ME
ME AND HERBIE HAVE A BET
LUCKY SURVIVOR
---
Where You May Have Seen Some of These Poems
Hands In Socks – Editor's Choice, 2008 ALLEN GINSBERG POETRY AWARDS, Paterson Literary Review #38
Homeless At Christmas, Lunch Box, Tell The Wife, There's That Picture – Rattlesnake Review (Poetry With Fangs)
Snoopy Hat – Paterson Literary Review #38
Ten Minutes – Honorable Mention, 2009 ALLEN GINSBERG POETRY AWARDS, Paterson Literary Review #39
When I Go Postal – Medusa's Kitchen
Tell The Wife, Fired - Caduceus
---
Adapted from the verse
You never forget your first time .... fired
Good things about being out of work
---
Comments on CANNED
"It is very lively, topical, and to the point. The poems are jazzy, imagistic, and lyrical. This was one of the best books I reviewed for this contest.
A well structured book of poetry has the following: clear and compelling cover image that draws the reader in, a table of contents, interesting back material that may included an author's photograph and biographical note (I found the back a bit cluttered and do consider a photo), and clean typesetting. CANNED benefits from most of these.
Audience includes the general reader of contemporary poetry and of course anyone suffering from unemployment and layoffs and the general economic crisis. This book speaks to a real problem with humor and poetic technique.
"The most professional thing that any book of poetry can have is a list of magazines (print and electronic) where the poems were previously published. This shows seriousness, and a track record. And so the acknowledgements here are a terrific addition. Do consider sending a full manuscript out to some literary presses for consideration. I think this collection is publishable on that level.
In terms of the poems themselves, don't shy away from detail or from images that use the five senses. Abstraction is interesting, but it is detail and imagery that really drive the feeling of any poem, so be specific. Also, add page numbers to the contents. Overall, however, excellent work."
Judge: 60
19th Annual Writer's Digest Self-Published Book Awards
---
In The News
Turning unemployment into an art form The Observer
---
Back Cover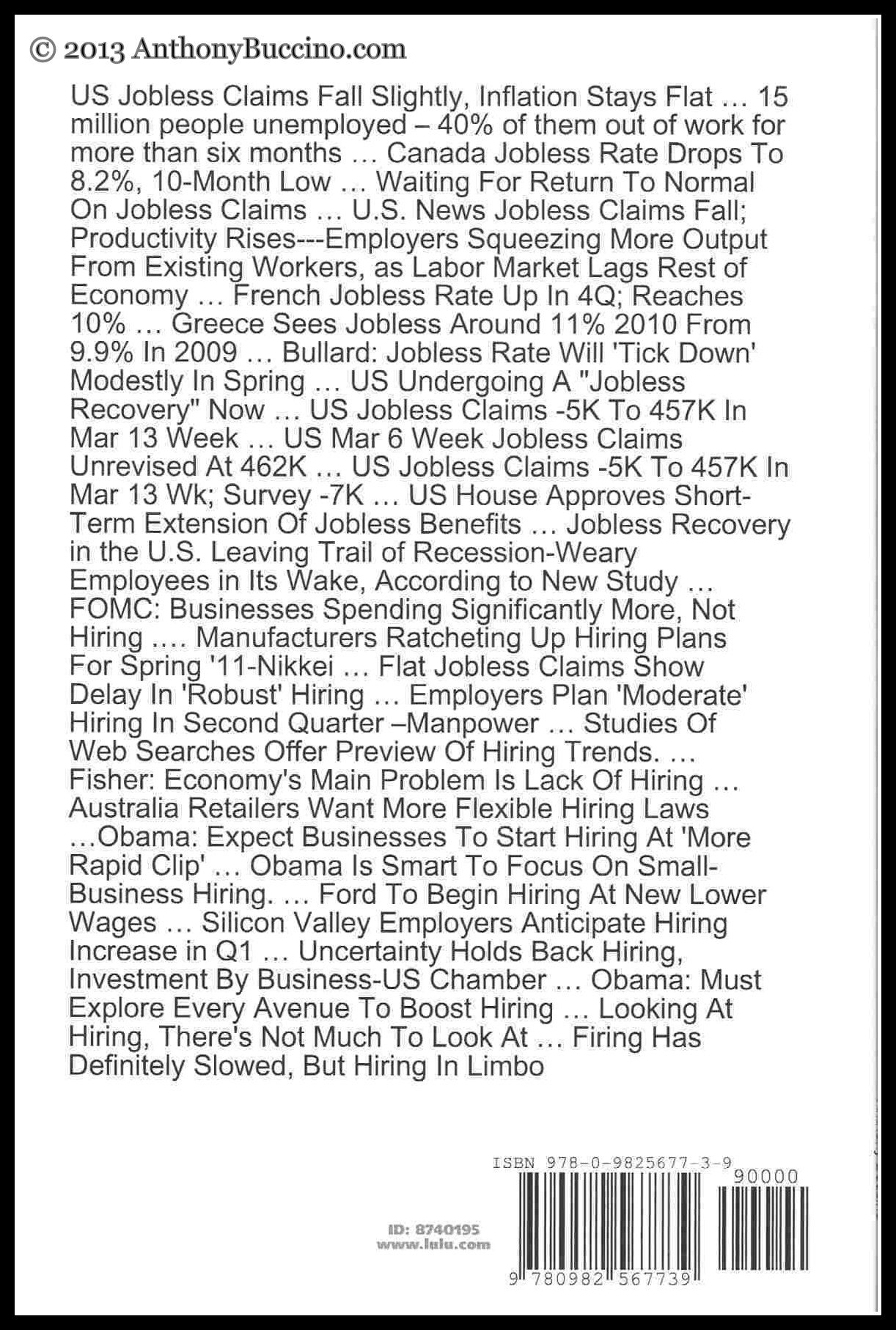 ---
CANNED, Booted, bumped, down-sized, fired, forced out, hated, hired, jobless, laid off, let go, out of work, out-sourced, pink-slipped, terminated, sacked, unemployed – By Anthony Buccino
Published by Cherry Blossom Press, PO Box 110252, Nutley, NJ 07110
---