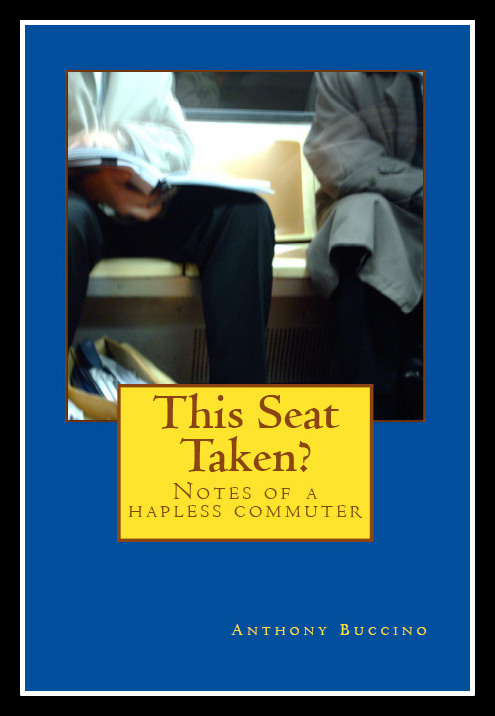 If you ever commuted to work, you'll enjoy reading Anthony Buccino's collection This Seat Taken? Notes of a Hapless Commuter about the joys and follies of getting to and from work using metropolitan public transit to reach his news offices in Jersey City and later Midtown Manhattan.
Years' worth of Buccino's bus and rail commuting tales and observations are collected in this 224-page book. You should read it while you are commuting via public transportation.
In 2008, Buccino published Voices on the Bus, Train, Subway, Bus and in My Head, a collection of non-rhyming verse written while commuting from northeastern Essex County to Jersey City, N.J.
---
To all the strap hangers and commuters
taking public transportation to work
because it's cheaper and better for the earth
and because, like me, they'd probably run down
annoying, sluggish pedestrians clogging crosswalks,
if we allowed them behind the wheel.
Happy trails.
… Anthony
---
On the bus during my morning commute to NYC I'd play Law & Order 'casting director' with the passengers as they boarded.
Jealous wife. Victim's close friend. Guilty looking guy, but not guilty. Man with alibi. Woman on street who was startled when she heard the (scream, gunshot, crash). Old, tired detective who retires next month. Over-eager idiot young detective. Victim's ex. Victim's other ex....
Didn't everybody do this on the bus ??
I was Old man with notepad looking studious.
---
In three sections
Contents
THIS SEAT TAKEN?
Third Of July
New Kid On The Bus
Transit And Transitions
I've Been Everywhere In New Jersey
Waiting For The Bus
Railroad Crossing
Ninety-Three Hoover
I Spy With My Little Eye
Trash Eaters On The Train
Ten Local Trips To Take Before I Retire
Underground, Newark City Subway
Ever Notice Those NCS Murals
Murray The Groundhog
NJ Transit Soaks Hapless Commuters
Bank Robber Takes The Bus And Train?
A Day Early to Pay For Sparse Parking Space
Going The Distance Together
Route 74 Bus -- 6:38 To Paterson
The 74 Runs Through It
Another Free Lunch Ends
Fear And Yogurt
Gimme Shelter
The Strangest Thing
The Second Strangest Thing
Newark Subway Backdown
Twelve Miles An Hour
Your Transit Emails
Public Transit Gives Us Reasons To Complain
NJTransit Hits 865,000 Trips a Day
Schadenfreude Gas Prices
On NJTransit, No One Hears You Grumble
Whose Holiday Schedule, You Might Ask
Googling NJ Transit
Saturday Afternoon In Newark On NJ Transit
Why Wait Till June?
National Customer Service Week
Crime At Branchbrook Station
Belleville Unwelcomes Out-of-Town Light Rail Users
Grove Street, End Of The Line
The New Early Shift
The New Early Shift, Part 2
The New Early Shift, Part 3
Taking NJ Transit Bus To Wendy's, Literally
Light Rail, Jersey City
She's Going Back To Cuba
Voices On The Bus
---
THE PATH WAY TO JERSEY CITY AND NEWARK
Laptop, Who Has A Lap?
Down Public Transit Lane I
Down Public Transit Lane II
While Riding The PATH Train West I And II
The Great Swamp of North Jersey
Lady in Blue Shoes
Fraternity Rock
Jackson Wanna Be
To Maria On the PATH
I'm Not Gepetto
Poor Bishop
Romance on the Rails, Part Duh
PATH Car Away From Ninevah I
PATH Car Away From Ninevah II
PATH Car Away From Ninevah III
PATH Car Away From Ninevah IV
Five Years On The Rails
Platform H -- Wednesday
Preacher Man -- Wednesday II
Rain's Coming -- Wednesday III
Mind The Gap
Inside And Outside
Mark Of The Greasy Door
White Knuckle Rail Traveler
Harrison PATH Station
Had This Been a Real Emergency
Hackensack River Bridge Lift Problem
Nobody Cuts The Blind Guy Any Slack
PATH Cars Are Too Hot
Private Quarters On The PATH Train
Medium-Dead-Zone
Summer Reading List for Railroad Riders
Locomotive Breath
Ninety Minutes In Transit Heaven
Thank You, Stranger On The PATH
Phantom PATH And Acela Dream
Cell Phone Free Fridays
Amtrak Photo Contest, Keep Your Bail Card Handy
New Train Schedule: Commuter From Hapless to Helpless
Jurassic Park And Ride - The Sequel
Egrets And Regrets
Bye-Bye PATH QuickCards
Have You Seen the New PATH cars?
Welcoming a New Bucket of Bolts
Sniffer Test
A Small Part Of A Large Story
---
RIDING THOSE BUS LANES
Laughing At Traffic From My NJ Transit Bus Perch
What To Wear On A Cold Day Like Today
Oh, The Places You'll Go!
Times Square Tourists Tangle With Ninja Commuter
We're Waiting, Waiting On A Long Ride Home
Did The Woman Fall Under The Bus Today?
Buy The Ticket, Then Board The Bus
No Shortage Of Commute Idiots
Learning To Love The Lincoln Tunnel
Getting Ready To Rumble On Route 192 Local
So Long 192 And Low Fares, Hello 199 And Empty Pockets
NJ Transit Fare Increase Shoots The Moon
Blame This Blogger For 25 Percent NYC Fare Hike
Would-Be Passenger 26 On Route 199 Bus
Hapless Tourists Await NJ Knight In Tin Foil
Welcoming DeCamp Riders To NJ Transit
Commuters Enlist Rockwell, Email, To Save Nutley Bus Stop
NJ Transit Should Study Airlines' Revenue Enhancement
Getting Lost And Found At NJ Transit
Bus Driver McGrumplesteen At Your Service
Flying Through The Lincoln Tunnel
Smoke And Mirror Fares At The Hudson River Crossings
Proud Mary, I Get It
---
Many of these essays first appeared on NJ.Com NJ Voices
---
You may also like:

One Morning In Jersey City
Voices on the Bus train, subway, sidewalk and in my head
PATH station, Harrison, NJ. , February 26, 2003 by Anthony Buccino