Sometimes I Swear In Italian
By Anthony Buccino
---
Antonio Buccino's collection about growing up Italian American in New Jersey and discovering the roots of his ancestors.
Read about the old neighborhood where the 'bianca lina' man sold bleach to make the white linens; and the young boy growing up in the house his grandfather built, and living upstairs from his scary grandma who spoke no English.
The collection of verse captures the assimilation of Italian American born and raised in New Jersey and inspired by a trip to Italy where he realizes on his first visit, it also is his home.
This American boy discovers the land his ancestors left to make a better life for his generation. The pigeons that follow him throughout Italy provide the connection to his father - who raised homers - who didn't speak English until he started school - the rich heritage of the old country, and the enormous sacrifice of his grandparents.
Despite its title, Sometimes I Swear In Italian contains no profanity in any language.
LíAmerica
SPAGHETTI TREES
BUTCHIE
LEGLESS
DOMENIC
NEEDLE
AMERICAN BOY
OLD MAN
FACCIA BRUTE
PIGEON MAN SECRETS
MONEY IN NEWSPAPERS
THOSE PEOPLE
SOMETIMES I SWEAR IN ITALIAN
BY THE SIDE OF THE ROAD
IíM NOT GEPETTO
FIFTY-TWO
FOR EVERY BILL
NAMES
SOFIA DELL
SUNDAY DINNER
Egg & Eggplant
MOST AT HOME
ON MY SHOES
BREATHLESS
A BIG LONG FLIGHT
HOT COCOA IN AUGUST
SOLO JULIET
THESE STREETS ARE ALL WET
PIGEONS IN VENICE FOUNTAINS
HOW CAN YOU EAT THAT?
FATHER MET ME IN THE OLD COUNTRY
WAITING FOR THE BBC
DAVID AS STATUE
HOW DO YOU SAY
EGG AND EGGPLANT
RAIN IN PISA
MAIORI AT FERRAGOSTO
NIGHT SHADOW
IN THE SQUARE
ONE EURO FROM A TWO EURO
---
Sometimes I Swear In Italian
ISBN-10: 1466231718
ISBN-13: 978-1466231719
Copyright © 2011 By Anthony Buccino
Published by Cherry Blossom Press,
PO Box 110252, Nutley NJ 07110
---
Buccino's poetry collections are mostly out of print. Special orders - send email to author.
Sometimes I Swear in Italian
---
In the new land it will be better.
After this long sea journey
plagued by crowding and vomit
of storms and swells and smells,
we will see the woman of Liberty
and LíAmerica will welcome me.
No hunger there, you know.
The gold paves the road
and spaghetti grows on trees.
With open arms they welcome us
and speak kindly in our native tongue.
Itís good to have compare Giuseppe
watching for you in the new land.
Back home, I will miss la famiglia
and some day when I am prosperous
in the land of ravioli bushes
Ė where, when you hunger,
you pick the fruit and
nevermore eat the dirt -
Some day, I shall bring them to this new land.
- Spaghetti Trees
---
Acknowledgements
American Boy published at Poem Factory
Butchie, Money In Newspapers, Pigeon Man Secrets, Old Man, Pigeons In Venice Fountains, Father Met Me in the Old Country, One Euro From A Two Euro published in Sixteen Inches On Center
David As Statue published in Medusaís Kitchen
Da Vinci Paints My House published in The Quick & Dirty Poets literary journal Up & Under.
Egg And Eggplant published in Sweet Lemons 2
Iím Not Gepetto published in One Morning In Jersey City
Old Man published in Raving Dove Online Literary Magazine
Pigeons in Venice Fountains published in Florida English, Special Italian American Issue
Solo Juliet published in Voices In Italian-Americana
Spaghetti Trees published online at PowWow Papers, Sweet Lemons 2
Those People published in Yountakah Country
---
Anthony Buccino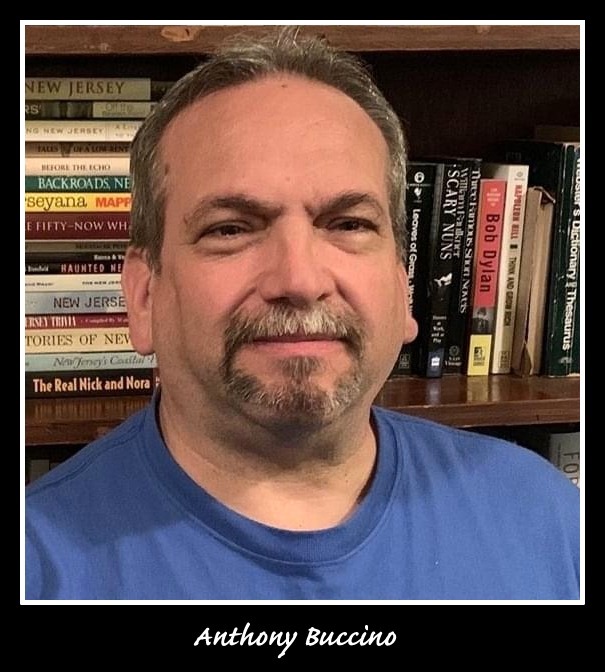 ---
Essays, photography, military history, more
---
Join Anthony's World Email List
---
New Jersey author Anthony Buccino's stories of the 1960s, transit coverage and other writings earned four Society of Professional Journalists Excellence in Journalism awards.
Permissions & other snail mail:
PO Box 110252 Nutley NJ 07110
---