Mark your calendar: BOOK TALK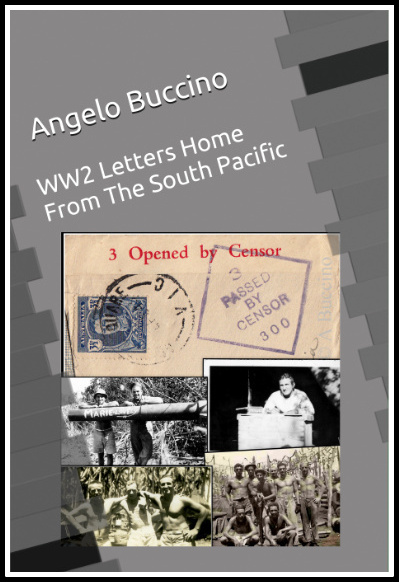 WW2 Letters Home From The South Pacific
Nutley-Belleville Old Guard
8:30 a.m., June 14, 2019
Anthony Buccino will discuss his dad's book of letters home from the South Pacific during World War Two.
WW2 Letters Home from the South Pacific
by Angelo Buccino is one GI's view of the war amid the heat, bugs, carnage and noise in an artillery battalion supporting First Marine Division at Guadalcanal and other islands that never get mentioned.
Buccino wrote these long-lost letters to his best friend back in the states asking about the old gang.
They turned up nearly sixty years after they were mailed, censored, read by his buddy and then found again in a forgotten footlocker in his old friend's attic.
Hear the whole story.
---
Nutley 1918 - First Memorial Day Parade
Nutley author Anthony Buccino will provide
home front and overseas background on WWI
Nutley Library, 7 p.m., Thursday, May 23, 2019
The 100th Anniversary Memorial Weekend activities begin with the showing of the 1918 Memorial Day Parade movie at 7 p.m. on Thursday May 23, at the Nutley Public Library. "Nutley 1918" is the earliest known motion picture shot in Nutley. The film's director and producer as one of America's first female filmmakers, Katherine Russell Bleecker. In addition to playing the film at the library Nutley Historian John Demmer will provided insight into the making of the film. Nutley author Anthony Buccino will provide home front and overseas background on WWI, which ended in November of 1918.
---
Buccino Will Honor D-Day Heros Screening
Nutley at War Film Screening and Discussion
Nutley Library,
7 p.m., Thursday, June 6, 2019
NUTLEY NJ -- Township historians John Demmer and David Wilson will host a screening of Nutley at War, a 1942 film by the Nutley Defense Council that has not been shown in public since 2002. Recently restored footage in this forty-minute film will take you back in time when Nutley organized its citizens to prepare for enemy attacks. Scenes filmed throughout Nutley, familiar family names, interior and exterior views of old Nutley buildings, and a celebratory parade document the hard work and dedication of Nutley neighbors. Recently discovered material relating to the making and marketing of the film will also be shown.
Local author and historian Anthony Buccino will speak briefly about Nutley servicemen in the Normandy Invasion of Fortress Europe on the 75th anniversary of the D-Day landing.