ANTHONY'S WORLD
Anthony Buccino
Nutley, New Jersey, author Anthony Buccino's stories of the 1960s, transit coverage and other writings earned four Society of Professional Journalists Excellence in Journalism awards. He published several collections of essays, photography, military history, and verse. The Pushcart Prize-nominated writer freelances from time to time, and is currently juggling three book projects when he is not enhancing his photography skills.

---
MARK YOUR CALENDAR: Book Talk
Nutley Notables - The men and women who made a memorable impact on our home town, Nutley, New Jersey, Vol. 2.
March is Women's History Month, so be aware that the first 50 or so pages of Vol. 2 are about Nutley women in history!
1 – Nutley Free Public Library, 93 Booth Drive, Nutley, N.J. , 7 p.m., Thursday, March 14, 2019
2 – Kingsland Manor, 3 Kingsland Street, Nutley, N.J., 2 p.m., Sunday, March 24, 2019
3 – Nutley Historical Society, 65 Church Street, Nutley, N.J., 7 p.m., Wednesday, April 17, 2019
Nutley notables profiled in this volume are invited to autograph copies near their bios. A separate copy of both the Notable-signed volumes will be added to the Nutley Museum archive.
Following his talks, copies of Vol. 2 and his other Nutley books will be available for autographs and purchase.
See Who's Who in Nutley Notables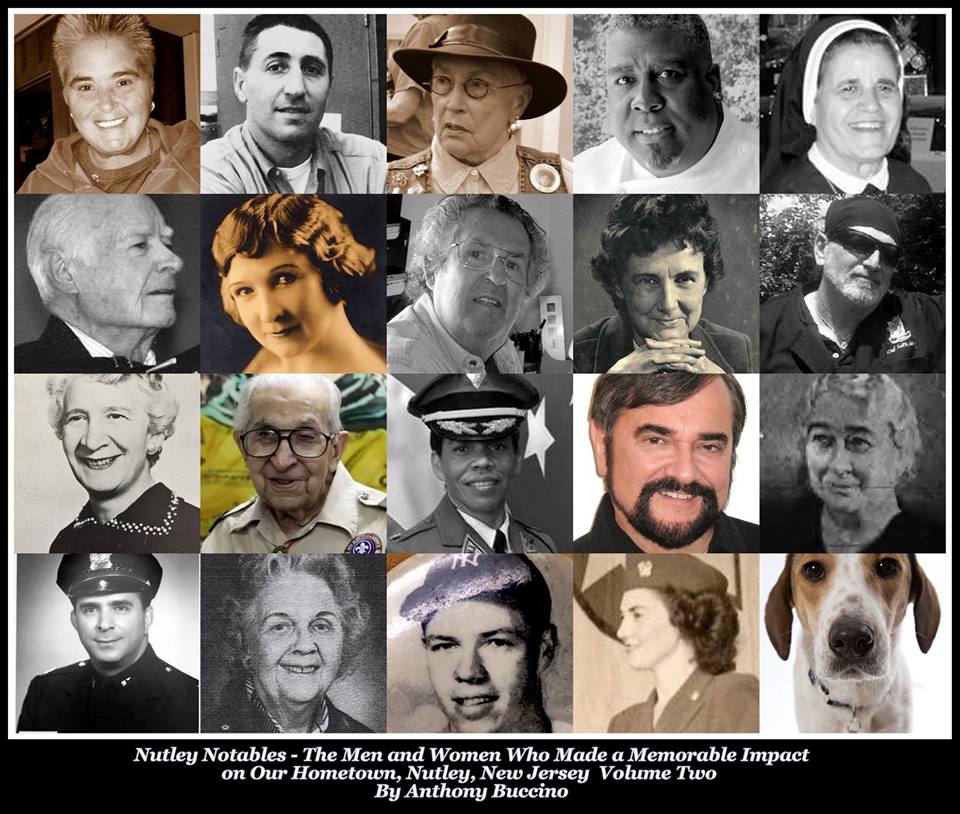 ---
---
Now in Print!
The Men and Women Who Made a Memorable Impact
on Our Home Town, Nutley, New Jersey
By Anthony Buccino
Our second volume about Nutley notables, the more than one-hundred people profiled
here made a memorable impact on Nutley, New Jersey, throughout history to today.
The township of Nutley, New Jersey, has accumulated a wealth of celebrated and eccentric people who over-shadowed the salt-of-the-earth folks who lived here, raised their families and built the town into the place that Norman Rockwell only dreamed of illustrating for the cover of the Saturday Evening Post.
We've co-mingled the people with the history of our town and although you might think you know your Nutley history, there are bound to be more than a few surprises here.
Published by Cherry Blossom Press, ISBN 978-1728689487, 132 pages.
More info on Nutley Notables Volume Two, who's who, and more
---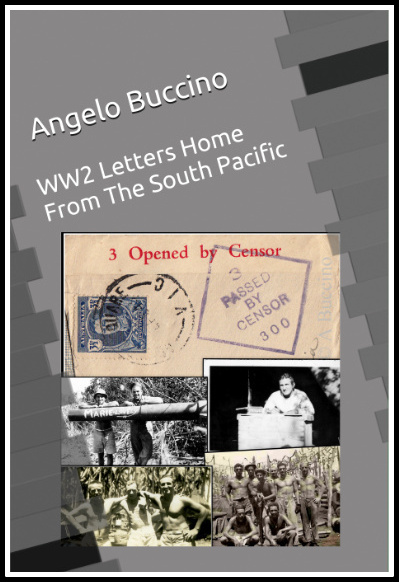 WW2 Letters Home From The South Pacific
By Angelo Buccino
WW2 Letters Home from the South Pacific by Pfc. Angelo Buccino is one GI's view of the war amid the heat, bugs, carnage, and noise in an artillery battalion supporting First Marine Division at Guadalcanal and other islands that never get mentioned.
Buccino wrote these long-lost letters to his best friend back in the states, asking about the old gang from town. These missives turned up nearly sixty years after they were mailed, censored, read by his buddy and then forgotten footlocker in his old friend's attic.
Along with a stack of Angelo's photos from training, home, and across the ocean, we've put together this collection in time for his 100th birthday. The war aged him, and he passed in his sixth decade.
Here is a way to remember him, his sense of duty, his sense of humor, and the years he spent on hot, bug-infested islands defending all he left at home.
Published by Cherry Blossom Press, ISBN 978-1729270219, 140 pages.
Available on Amazon Nov. 16, 2018