Presley meant a lot of good things to a lot of people.
Somehow, through his music, or through his films, or through his generosity, he touched them. The touch of a kind king.

---
Elvis Presley, Jan. 8, 1935 to August 16, 1977
---
Elvis Presley's career began before we were born. For our part, he did not warrant the attention he received. His films were not great, nor his acting; his songs were nostalgic to older people, but to us they were more like archaic shenanigans.
His career was constantly on the wane. He was as much of a freak to the seventies as a fluke to the fifties. When he should have been content to count his money, he was out attempting another comeback.
Presley is dead, buried in Memphis, the town that loved him. Other fans across the country swamp the record stores for their personal memorabilia. The same records are bought that previously would not move out of the $1.99 bin.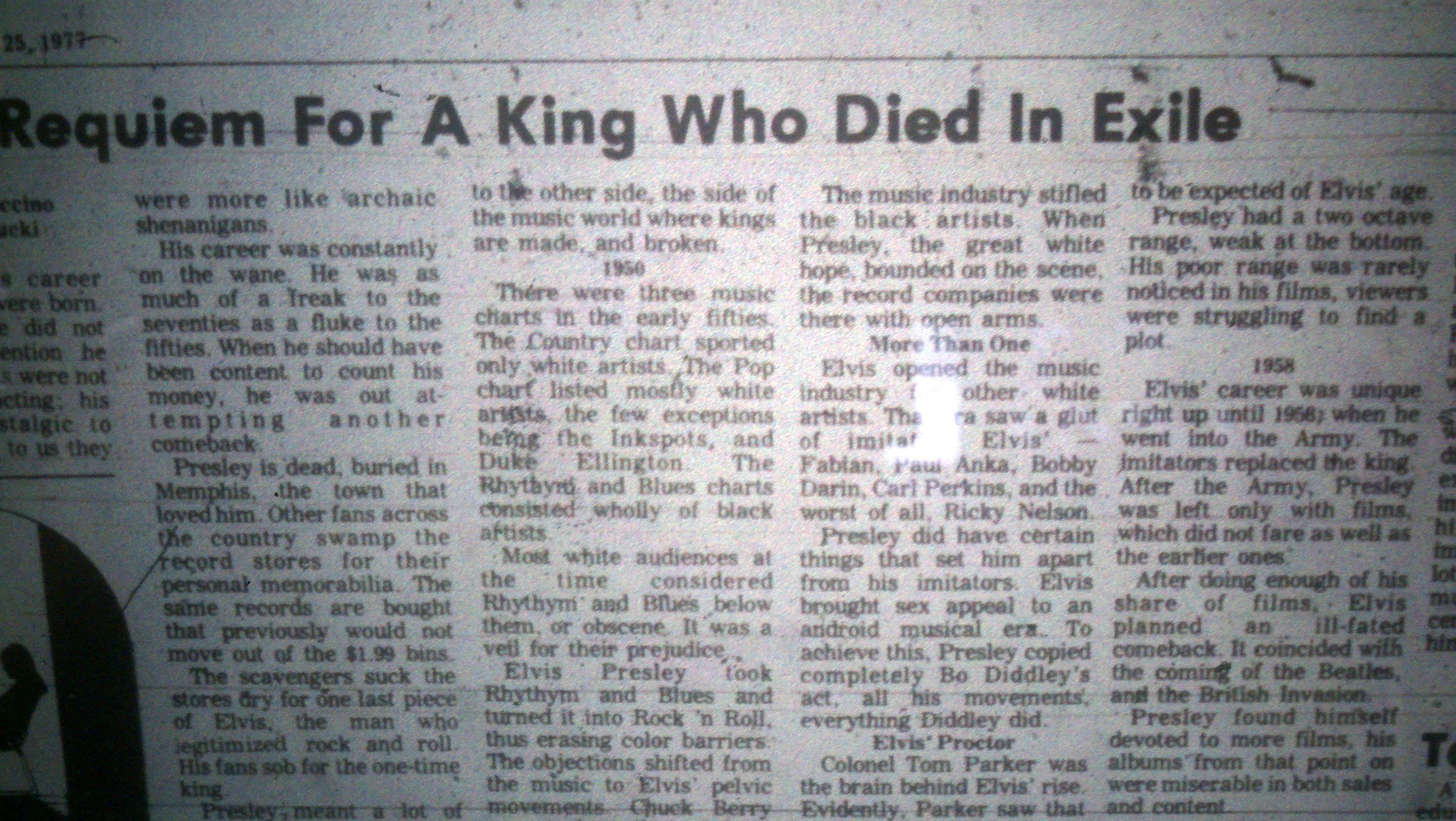 The scavengers suck the stores dry for one last piece of Elvis, the man who legitimized rock and roll. His fans sob for the one-time king.
Presley meant a lot of good things to a lot of people. Somehow, through his music, or through his films, or through his generosity, he touched them. The touch of a kind king.
Elvis wasn't always a king, he started small, in country music, and at the right time, broke on through to the other side, the side of the music world where kings are made, and broken.
1950
There were three music charts in the early fifties. The Country chart supported only white artists. The Pop chart listed mostly white artists, the few exceptions being the Ink Spots, and Duke Ellington. The Rhythm and Blues charts consisted wholly of black artists.
Most white audiences at the time considered Rhythm and Blues below them, or obscene. It was a veil for their prejudice.
Elvis Presley took Rhythm and Blues and turned it into Rock 'n Roll, thus erasing color barriers. The objections shifted from the music to Elvis' pelvic movements. Chuck Berry was a better musician; Little Richard, a more frantic performer; Richie Valens a better singer. Their failure laid in their color. Elvis garnered all the attention.
Presley made 31 movies. Chuck Berry, a better musician and singer, appeared in only four movies.
The music industry stifled the black artists. When Presley, the great white hope, bounded on the scene, the record companies were there with open arms.
More Than One
Elvis opened the music industry for other white artists. That era saw a glut of imitation Elvises – Fabian, Paul Anka, Bobby Darin, Carl Perkins, and the worst of all, Ricky Nelson.
Presley did have certain things that set him apart from his imitators. Elvis brought sex appeal to an android musical era. To achieve this, Presley copied completely Bo Diddley's act, all his movements, everything Diddley did.
Elvis' Proctor
Colonel Tom Parker was the brain behind Elvis' rise. Evidently, Parker saw that Bo Diddley could make a million bucks with his style – except that Diddley was black.
Parker groomed Elvis into a pale version of Bo Diddley. Parker then went out of his way to find the best back-up musicians available to disguise the lack of actual musical talent to be expected of Elvis' age.
Presley had a two octave range, weak at the bottom. His poor range was rarely noticed in his film, viewers were struggling to find a plot.
1958
Elvis' career was unique right up until 1958, when he went into the Army. The imitators replaced the king. After the Army, Presley was left only with films, which did not fare as well as the earlier ones.
After doing enough of his share of films, Elvis planned an ill-fated comeback. It coincided with the coming of The Beatles, and the British Invasion.
Presley found himself devoted to more films, his albums from that point on were miserable in both sales and content.
1968
Presley's second comeback came through a Mac Davis vehicle called "In The Ghetto." His comeback picked up momentum.
However, Presley fell out of the rock 'n roll mainstream. He was still drawing hard-core fans, playing the big halls and Las Vegas. Presley, failing to gain any new fans retreated into his own microcosm of guns, bodyguards, divorce and obesity.
1972
Presley's last gasp at being "King of Rock 'n Roll" came in 1972 with the release of the film, "Elvis, The Way It Is," subtitled "Elvis On Tour."
"Elvis On Tour," a documentary about his onstage performances, is probably his best film. His acting couldn't be faulted; he did not do any. It's a film of his act, a tribute to the fact that Elvis NEVER lost his stage appeal.
Influenced By The Herd
Between 1972 and his death, Elvis had gained weight and curtailed his appearances. Like Lenny Bruce, Presley's final appearances were artistically unimportant. Like Bruce, Presley was more important as an influence than as a performer.
To the end, his publicity maintained Presley was the "King of Rock 'n Roll." In the face of artists such as Bob Dylan, Mick Jagger and Peter Frampton, Presley's claim to the crown in the last two decades is weak at best.
At one time, Elvis Presley was the king, but when he died he was more the king in exile. For a man who imitated others, and was himself obliterated by imitators, he sure made a lot of people happy with his music. Rock 'n roll certainly will not forget him.
---
First published in The Independent Press of Bloomfield
on August 25, 1977
.

Copyright 1977, 2014 by Anthony Buccino and J.B. Narucki, all rights reserved.
---


A Dead King - Opinions Differ

click photo to read low quality images.
Email Comments on Requiem For A King Who Died In Exile