Who are these people in these old photos? The squares look like poster stills from some old WWII movie. They are black and white, somewhat out of focus, yet, these people do seem to be enjoying the moment.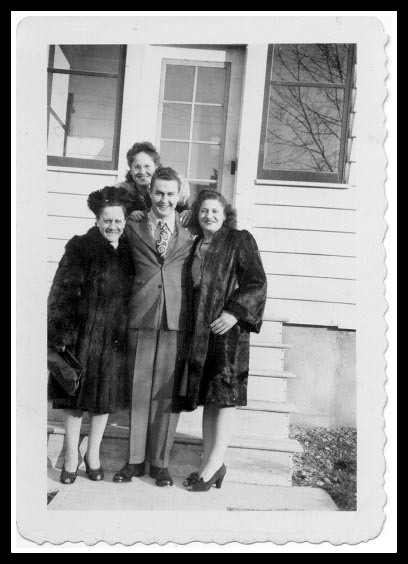 It is obvious they enjoy the moment of togetherness that is frozen in time before me on such brittle and fragile paper.
These long-ago relatives gathered at a wedding here, a baptism there, a picnic there. They hammed it up with a smile, or stood prim and proper in a nearly formal pose for all posterity.
In one large photo at a large family gathering, the children sit in front on the floor, and the various branches of the family stand nearly together.
Even those in service were remembered with empty spaces near their spouses. The immediate family seemed larger then. The family gatherings were fit for an army and that is what the family seemed when it gathered at holidays, weddings and funerals.
My generation was born in the era of Kodak Brownie cameras and black & white film popularity. Four or five decades ago even the simplest camera was somewhat complicated to master. It is also rare to ever find the designated family photographer actually in a picture.
The oldest photos I can find in these cardboard boxes handed down generation to generation are mostly from the post WWII era.
In the rare photos of great-grandma at the beach, she wears a suit that appears to have more material than today's cocktail party dress.
Young men captured in these photos seemed impressed with their own youthful physiques. Not that that should surprise anyone, in those days, a day at the beach was no day at the beach, if you know what I mean.
So, it is not unlikely that they would relish the relief of the day whether at Sandy Hook or in the Jersey hills near Highpoint.
Once upon a time there were photos in a long-since-lost shoebox tucked away in rafter storage in the garage. They held someone else's memories of black & white coconut trees in the Fiji Islands.
Also in the faded film were the native women in grass skirts, smiling for the sweating, malaria-afflicted soldiers come to set them free in a world gone mad.
And other photos reminding of the grim reality of those days: young draftees poised with artillery cannon peering through camouflage netting past a tropic tree line at a vast gray blur of ocean.
A few weeks ago grandpa was the subject of an interview demanded by a high school history teacher. We tried to help our daughter focus her assignment questions. We could almost predict the answers, but we tried to steer her towards the highpoints of grandpa's seventy-three years here.
Ask him about the Marines, we suggested, and how he got in even though he was too young. And how he met grandma, my wife added. And don't forget to ask why he left Pennsylvania and spent the last forty years in Belleville.
Write this down, remember to ask how it was growing up as the baby in the family after his father died in 1929. Ask how grandma made do with all those mouths to feed. She baked bread for the baker, you know.
"Wait, Pop. Stop. I can't write that fast," our daughter said, halting the questions.
"How could he have done so much? What was that last question?"
Of course grandpa was ecstatic at the undivided attention and keen interest paid by his only granddaughter. She rattled off a question from the list, some ours and some hers, and took notes on his answers.
Then she asked another question, and scribbled some more. Nearly out of ear-shot, we eavesdropped unobtrusively nearby.
And weren't we all surprised at grandpa's answers. Almost none of them agreed with what we thought we knew about him.
And where did those extra questions come from? We never knew he had a trucking business after the war and before he came to Jersey. How did she even know to ask him that?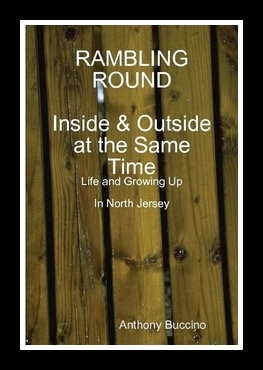 Our little one remembers details of grandpa's long ago stories that her mother and I would swear we never heard about in our lifetime.
"Hey," my wife erupted after our daughter had finished her inquisition, "that's not the way I remember the story! You never told me you owned a fleet of trucks after the war!"
Ah, his unit ended up wiped out in Tarawa, without him.
"And I didn't know you were a rifle instructor in the Marines!" As an aside, she told me, "Forty-something years you live with these people and they still surprise you!"
"Ain't it the truth?" I nodded. "I guess we all have our own history, however we remember it."
The family history is more than old photographs, and yet it is nothing if not passed along to succeeding generations.
One way to preserve our own history is to set up a video camera on an older relative and keep passing along the decaf and old photos while recording the stories and tales of the relatives and friends in each fragile depiction.
Sure every picture tells a story, but not as well as when grandma or grandpa is looking at a frozen moment in time.
That's when you'll hear the stories of great-grandpa cranking up the Model T for a trip down Route 1 to the shore. Photos of the boys in service and their homecoming tales are surely worth the price of admission.
Your snippets of family history need not be formally recorded and typed out on the latest fancy computer. It is not, after all, a history assignment.
But some day you'll thank yourself for making the time when you pull out that old videotape and find how cherished those rambling tales have become.
© 1998-2023 By Anthony Buccino
This essay first appeared in Belleville!
Adapted from RAMBLING ROUND Inside and Outside at the Same Time
---
Read:
A Father's Place, An Eclectic Collection
---